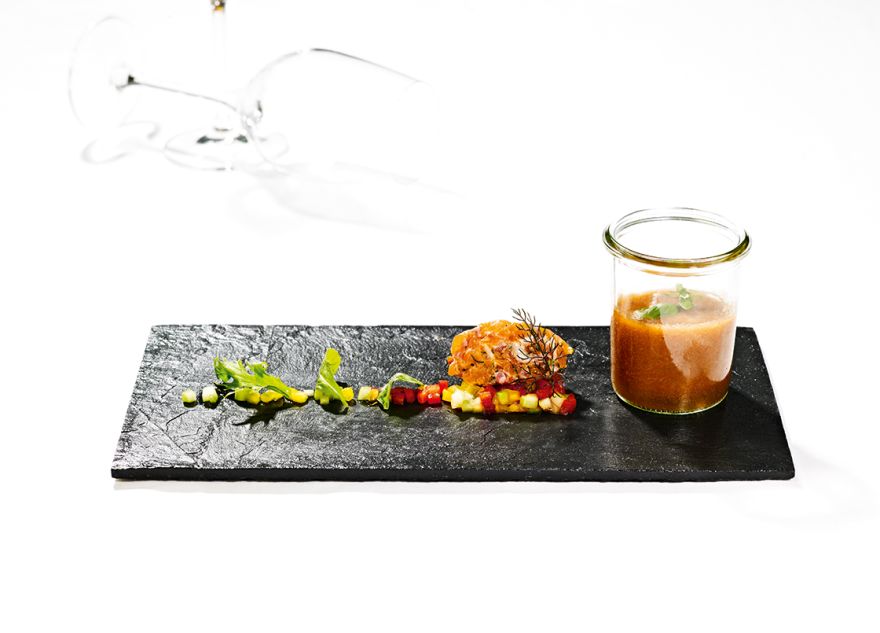 Ingredients
Gazpacho soup
150 g cucumber / 500 g tomatoes / 150 g paprika (red, green, yellow) / 125 g onion / 1 tablespoon tomato paste / 1 clove of garlic / 70 g white bread (without rind) / 1 tablespoon red wine vinegar / vegetable stock / 3 tablespoons cold-pressed olive oil / Salt / pepper / sugar
Salmon trout tartare
100 g salmon trout fillet (skinless) / 1 shallot / 1 teaspoon mustard / 1 teaspoon chopped basil / 1 teaspoon cognac / 1 teaspoon lemon juice / salt / cayenne pepper / sugar
Vegetable stock
1 white onion / ¼ celery root / 1 carrot / 1 parsley root / ½ leek / 6 parsley stalks / 2 lovage sprigs / ½ teaspoon white peppercorns / 2 juniper berries / ½ teaspoon mustard seeds / 1 bay leaf / ½ l white wine
Preparation
Wash and clean vegetables. Cut the amount of a heaped tablespoon of each type of vegetable into small cubes (brunoise) and place as a deposit. Soak white bread in water. Roughly chop the remaining vegetables. If necessary, dilute with a little vegetable stock and season with salt, pepper and sugar. Now add the coarse diced vegetables.
Cut the ready-to-cook salmon trout fillet and shallot into fine cubes (do not chop), add all the other ingredients and mix well. Serve as quickly as possible, as the tartare "pre-cooks" a little with the lemon juice.
For the vegetable stock, wash the onion, celery, carrots, parsley root and leek and then cut into cubes. Sweat the vegetables with the spices until translucent and deglaze with white wine. Then pour cold water so that everything is covered, add the remaining ingredients and simmer gently for about 20 minutes. Then pass the stock through a fine sieve or a hair sieve.
TIP
A tramezzini slice tossed in brown butter topped with the tartare is the perfect appetizer for a great meal with friends.