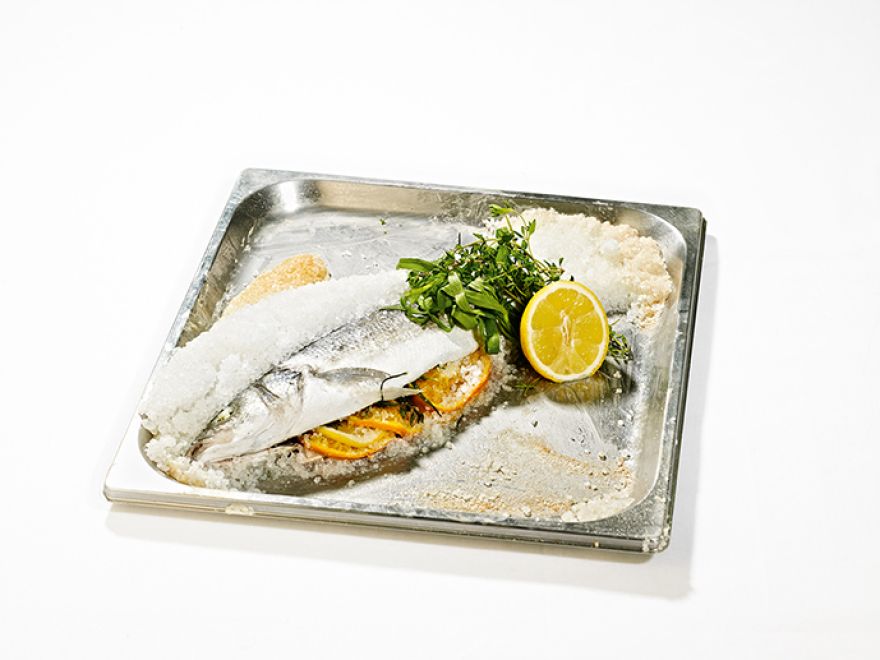 Ingredients
for the salt crust
1.5 kg of coarse sea salt, 2 egg whites, 75 ml of water
& the sea bass
2 sea bass á 400 - 500 g (scaled & gutted), 1 sprig of thyme, 1 sprig of tarragon, lemon slices, orange slices, parsley
Preparation


Mix the sea salt with the whisked egg white and the water well. Let the mixture steep for about 10 minutes.
Line a baking sheet with parchment paper and brush with oil. Then distribute 1/3 of the salt mixture on the tray. Fill the sea bass with thyme, tarragon, parsley, orange and lemon slices and place on the salt mixture. Distribute the remaining salt mass evenly over the sea bass, smooth it out and adapt it to the natural shape of the fish.
Preheat the oven to 200 °C and cook the sea bass in the salt crust on the middle rack for about 15 minutes. Remove from the tube and let it simmer for another 10 minutes.
Carefully break open the salt crust and remove the sea bass.
TIP
Instead of a saltwater fish, local freshwater fish are also ideal for this!